Pushing the limit of [high initial velocity] x [large initial velocity area].
Longer distances with an easier swing.
47 inches x deep center of gravity/loft 9.5°, a combination that gives you remarkable distance and trajectory.
In particular, the high trajectory produced by the loft 9.5° is something that must be seen to be believed. This is indeed the ultimate driver for high initial velocity.

Higher trajectory with a deep GR (depth of center of gravity) and low center of gravity.
The large center of gravity angle (30.5°) allows for greater impact at the head.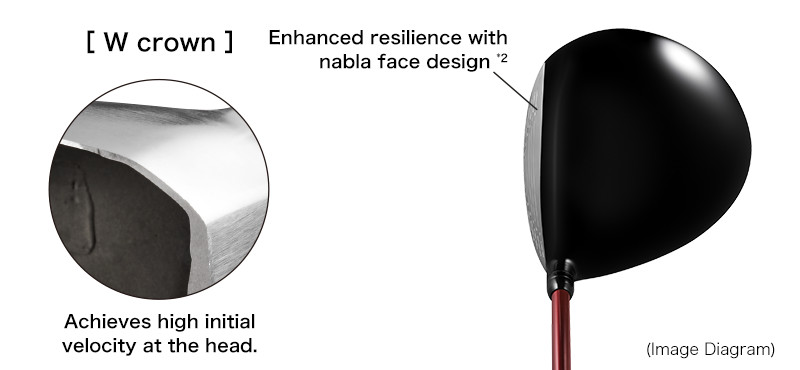 *1 Crown Structure...Patent pending
*2 Nabla face structure ... Registered Patent No. 5152431
The new Speed Impact Shaft

The grip and head of the 47 inch shaft is made from high strength/high modulus carbon fiber "Torayca ®T1100G*" to provide a smoother swing-through and higher head speed.
*Torayca ® is a registered trademark of Toray Industries, Inc..
SPEC
<Made in JAPAN><Made in CHINA>
*Conforms to SLE rules
*With original head cover (Made in China)
* Made-to-order model ... custom shaft model
Specs may be changed without prior notice.
Data indicated are those of values for club design. Club design values and actual values may differ slightly.
Due to PC environment, some catalog product colors may differ slightly from the actual colors. Please check the actual product at a store.
Compare to the SUPER egg DRIVER LONG-SPEC
Comparison with the SUPER egg DRIVER LONG-SPEC
RED DRIVER S-9.5

SUPER egg DRIVER LONG-SPEC

Shaft Specs

M-40 (SR)

M-37 (R)

M-40 (SR)

M-37 (R)

M-35 (R2)

Loft angle(°)

9.5

9.5

10.5

9.5

10.5

11.5

10.5

11.5

Volume(cm3)

460

460

Face angle(°)

-1.0

S1.0

Lie angle(°)

59.5

59.5

59.5

59.5

59.5

59.5

59.5

59.5

Length(inch)

47.0

46.75

46.75

46.75

46.75

46.75

46.25

46.25

Total weight(g)

268

266

282

282

281

281

281

279

279

Balance

D-2

D-3.0

D-3.0

D-3.0

D-3.0

D-3.0

D-1.0

D-1.0

Shaft weight(g)

44

43

47.0

47.0

46.0

46.0

46.0

44.0

44.0

Shaft torque(°)

7.8

7.6

6.7

6.7

6.7

6.7

6.7

6.7

6.7

Shaft KP

H

H

Grip

Weight:36.0, Diameter:60, Code:None, Back line:Yes

Weight:42.5, Diameter:M60, Code:None

Material

Face:Titanium(Ti-6Al-4V)
Body:Titanium(Ti-8Al-1V-1Mo)
Weight:Tungsten alloy(Ni,W,Fe)

Face:Titanium(DAT55G)
Body:Titanium(Ti-8Al-1V-1Mo)

Manufacturing process

Face:Forged
Body:Vacuum precision casting
Weight:Powder metallurgy

Face:Cold rolling
Body:Vacuum precision casting