High repulsion has evolved to become stronger and wider.
Gold egg has exceeded the limits of flight distance.
The new power flange exclusive to the Gold egg driver*1 concentrates the deflection in the face.
The power groove*2 concentrates the deformation on the face and provides increased deflection area up to the bottom.
Advances have been made in various aspects to achieve high repulsion, to obtain a high repulsion equal to COR 0.86 *3, and an increase of as much as 130% has been achieved in the high repulsion area *4.
The advanced head with a deep and low CoG grips the ball gently and provides an easy lift.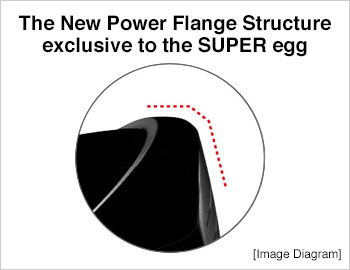 The flange angle has been increased,
and the flange has also been bent,
in order to increase the deflection area.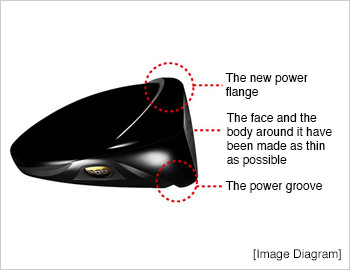 The sole has also been made stepped the power groove has increased the area with high repulsion up to the bottom of the face.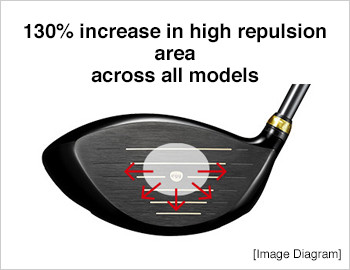 The high repulsion face area has been increased, and the area around the face and the body has been made thinner,
while the high repulsion area has been made wider.

The shaft of the new Gold egg driver provides improved handle rigidity from below the grip, and ensures guaranteed swinging comfort in spite of the lightweight shaft.
Nanoalloy®*5 technology with high shock absorbency is used for the tip.
It offers the twin benefits of light weight and tip strength.
*1. Power flange structure...Registered Patent No. 5882522
*2. Power groove structure...Patent pending
*3 COR...Value measured under the conditions defined by the R&Amp; A/USGA golf rules up to March 2016
*4. High-repulsion area: Area with coefficient of repulsion value exceeding 0.83.
*5. NANOALLOY® is Toray's registered trademark.
<!>Please do not hit with a head speed of 43 m/s or more as it may lead to damage of the product
SPEC(Men's)
<Made in CHINA><Made in JAPAN>
*Non-conforming to SLE rules.
<!>Gold egg driver does not conform to the SLE rules of R&A and USGA. Please use only for playing golf non-competitively.
Please do not hit with a head speed of 43 m/s or more as it may lead to damage of the product
*With original head cover(Made in CHINA)
Comparison of egg DRIVER
NEW egg DRIVER

SUPER egg DRIVER

Shaft Specs

M-40 (SR)

M-37 (R)

M-35 (R2)

M-43 (S)

M-40 (SR)

M-37 (R)

M-35 (R2)

Loft angle(°)

10.5

11.5

10.5

11.5

10.5

11.5

10.5

10.5

11.5

10.5

11.5

10.5

11.5

Volume(cm3)

460

460

Face angle(°)

-1.0

-2.0

Lie angle(°)

59.5

59.0

Length(inch)

45.75

45.75

45.75

45.75

45.25

45.25

45.5

Total weight(g)

277

277

276

276

275

275

284

281

281

279

279

277

277

Balance

D-0

D-0

D-0

D-0

C-8.0

C-8.0

D-1.5

D-1

D-1

D-1

D-1

D-0.5

D-0.5

Shaft weight(g)

42

42

41

41

40

40

48

45

45

43

43

41

41

Shaft torque(°)

7.0

7.0

7.1

7.1

7.0

7.0

6.3

6.7

6.7

7.0

7.0

8.0

8.0

Shaft KP

H

M

Grip

Weight:37.5 , Diameter:M60, Code:None

Weight:37.5 , Diameter:M60, Code:None

Material

Face:Titanium(DAT55G)
Body:Titanium(Ti-8AI-1V-1Mo)


Face:Titanium(TP2)
Body:Titanium(Ti-8AI-1V-1Mo)
Weight:Aluminum(AL6061:2g)

Manufacturing process

Face:Cold rolling
Body:Vacuum precision casting

Face:Casting
Body:Vacuum precision casting
Weight:Forged
SPEC(Ladies')
<Made in CHINA><Made in JAPAN>
*Non-conforming to SLE rules.
<!>Gold egg driver does not conform to the SLE rules of R&A and USGA. Please use only for playing golf non-competitively.
Please do not hit with a head speed of 43 m/s or more as it may lead to damage of the product
*With original head cover(Made in CHINA)