Strong and wide.
Hit the ball further with the new high-initial-velocity RS.
Double Design : The new combination of new W crown design*1 and W moment design*3 make a different level of GiriGiri.
W Crown : The new RS has evolved the new W crown even further with the placement of ribs and other design feature.
New Nabla Face*2 : Adding new technology of new Nabla face make unprecedented level of GiriGiri.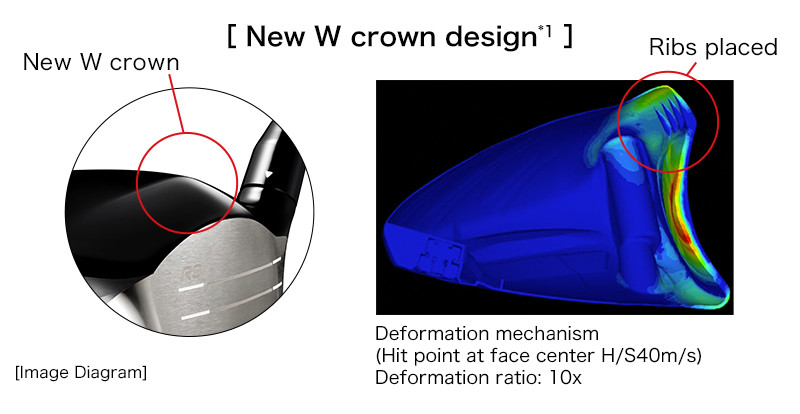 The Nabla face of the new RS has a smaller area for the thick center portion compared to RS2017, and thinner peripheral areas. The evolution of the Nabla face has advanced the expansion of the high CT area.
*Nabla face structure ... Registered Patent No. 5152431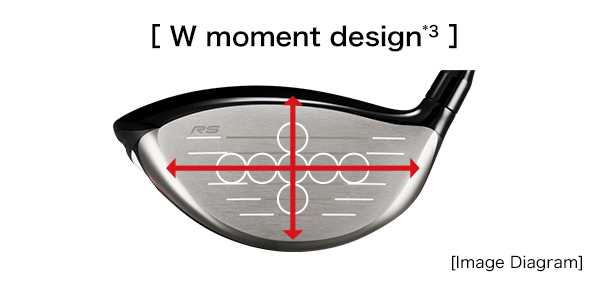 This is a design for optimizing two different inertial moments―face back and toe heels―to match the golfers' different types of swings and hit points.

Average golfers tend to let their hit points drift from side to side.
In contrast, skilled golfers tend to let their hit points drift up and down.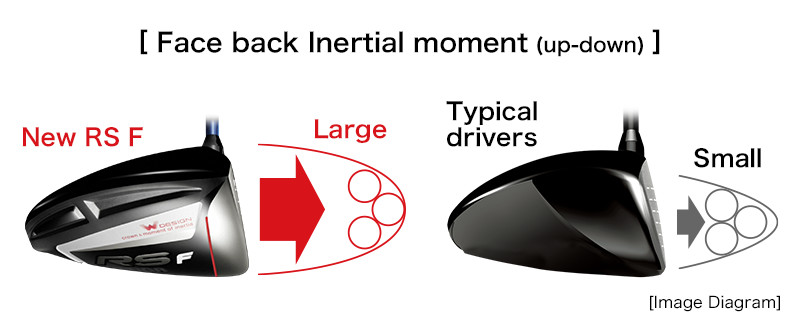 RS F is designed with a large face back to counter up and down drifting.
Even if the hit point is off, the sweet spot is large.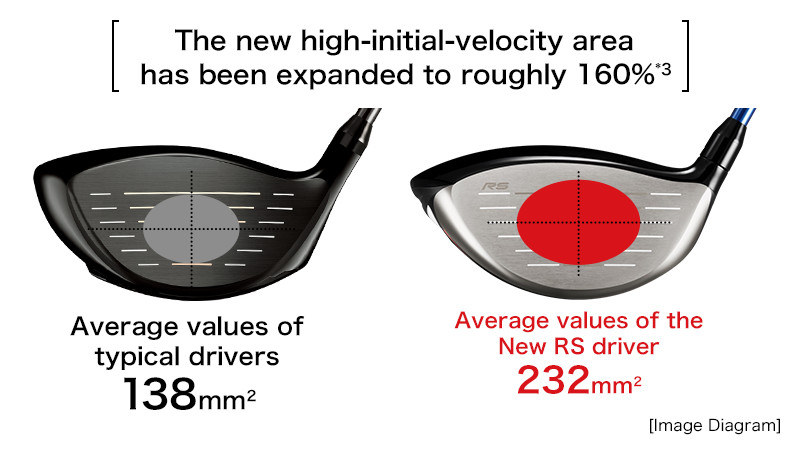 [What is this new high-initial-velocity area?]
This is an area that provides enhanced resilience at COR 0.81 or greater by taking into account inertial moment.
*This is a calculated value based on measurements taken on a radar doppler gauge used at public organizations. Based on a PRGR study (May 2018)

*Diamana is trademark of Mitsubishi Chemical Corporation
Ballistic - control - system
RS Drivers come with the "Bacosy" ballistic control system.
Its variable loft mechanism allows you to control your ballistics.
You can also change the club's balance by changing its weight.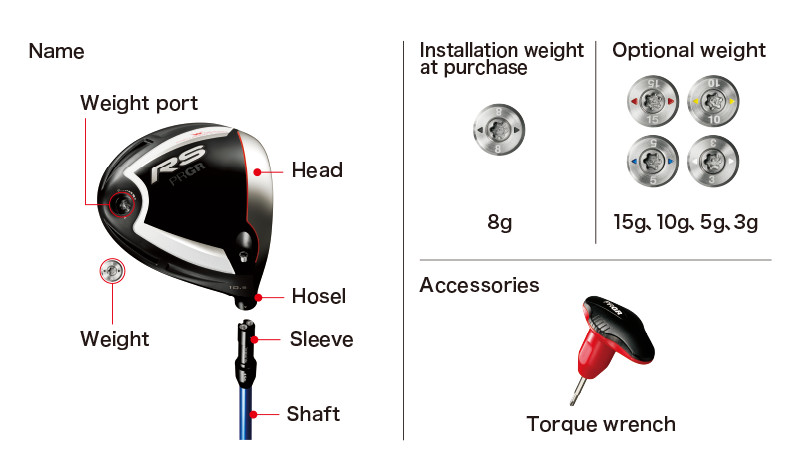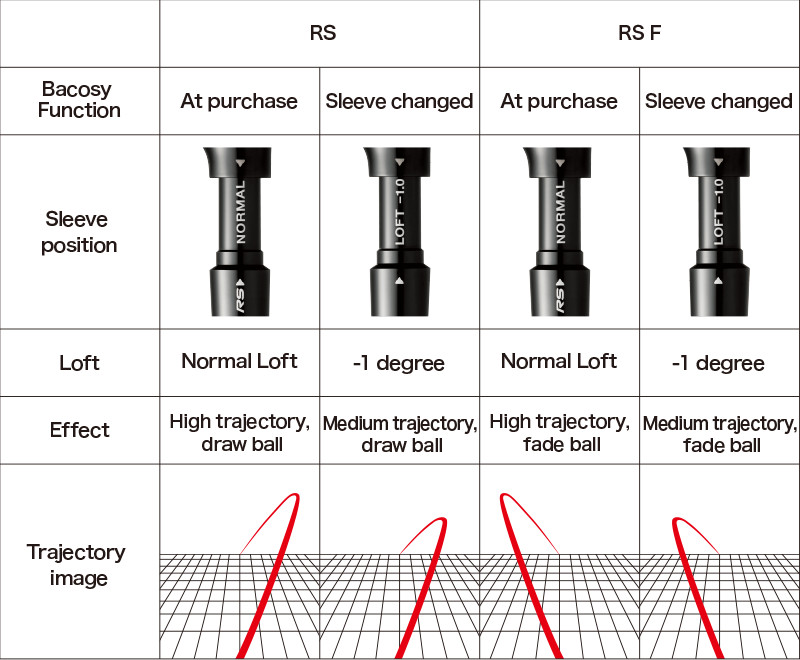 SPEC
<Made in JAPAN><Made in CHINA>
*Conforms to SLE rules
*With an original head cover (made in CHINA), a special wrench.
*Club length: determined by JGGA measurement.
Comparison of RS DRIVER
RS F DRIVER

RS DRIVER

Shaft Specs

S (M-43)

SR (M-40)

R (M-37)

S (M-43)

SR (M-40)

R (M-37)

Loft angle(°)

9.5

10.5

9.5

10.5

10.5

9.5

10.5

9.5

10.5

11.5

10.5

11.5

Volume(cm3)

460

460

Manufacturing process angle(°)

-3.5

-2.0

Lie angle(°)

56.0

59.0

Length(inch)

45.5

45.5

Total weight(g)

308

308

303

303

299

308

308

303

303

303

298

298

Balance

D-2.5

D-2.5

D-2.0

D-2.0

D-1.5

D-2.0

D-2.0

D-1.5

D-1.5

D-1.5

D-1.0

D-1.0

Shaft weight(g)

54

54

49

49

44

54

54

49

49

49

44

44

Shaft torque(°)

4.7

4.7

5.4

5.4

5.7

4.7

4.7

5.4

5.4

5.4

5.7

5.7

Shaft KP

M

M

Grip

Weight: 50.0, Diameter:60, Code:None, Back line:None

Weight: 50.0, Diameter:60, Code:None, Back line:None

Material

Face:Titanium(Ti-6Al-4V)
Body:Titanium(Ti-8Al-1V-1Mo)
Crown:Original Carbon(CFRP)
Weight:8g(Stainless/SUS630)

Face:Titanium(Ti-6Al-4V)
Body:Titanium(Ti-8Al-1V-1Mo)
Weight:8g(Stainless/SUS630)

Manufacturing process

Face:Forged
Body:Vacuum precision casting
Crown:Press molded

Face:Forged
Body:Vacuum precision casting