The RS5 driver W(Double) Core design delivers
unparalleled distance, combining the two core ideas of
maximum clubface surface area and maximum power.
Hit it farther than everyone else.
Launch it. You can have it all.
[Forgiving, easy full swing]
Take an easy swing to get a forgiving ball flight.
Designed to be a lighter and longer RS driver.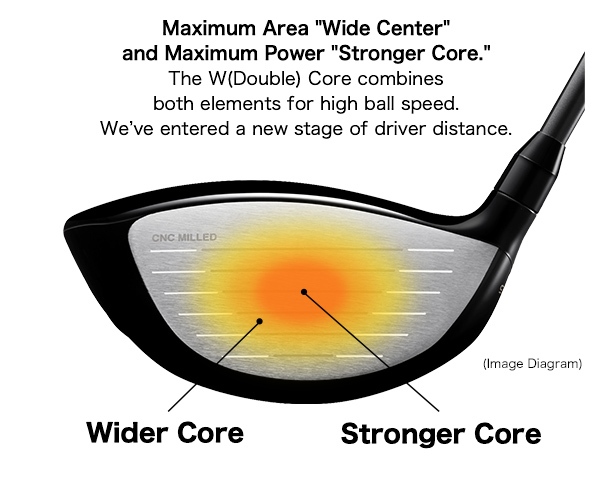 W(Double) Core Design - maximum area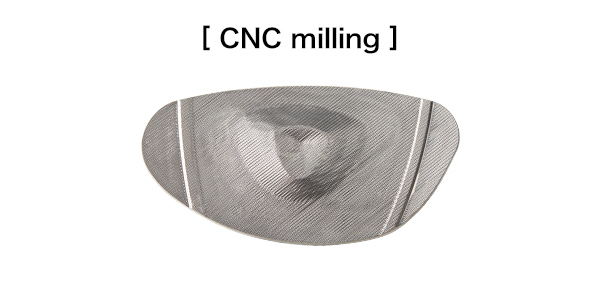 High-precision CNC milling is used to create the RS5 clubface.
We've suppressed thickness variation to the maximum extent possible
and dramatically enlarged the high ball speed area.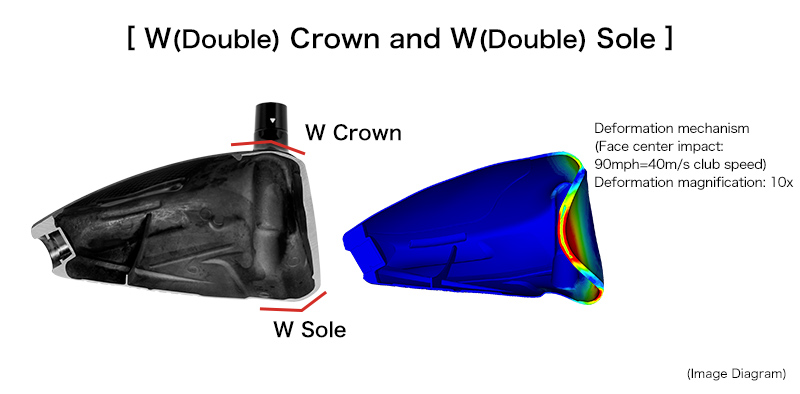 The sole is also equipped with a flange that increases the energy transfer area.
By placing the W Crown and W Sole on the upper and lower parts of the clubface, respectively,
we've further enlarged the energy transfer area to achieve the W Core "Wide Center."
* The new high ball speed area was enlarged to roughly 1.5x the size of other companies.
W(Double) Core Design - maximum power "Strong Center"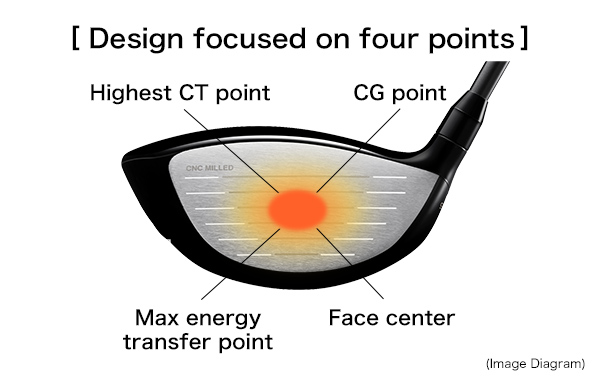 The advanced "nabla neo Face" also maximizes energy transfer, through a larger energy transfer area.
The RS5's W Core "Strong Center" blows away the competition.

The shaft is designed to flex, kick and launch from the grip throughout the entire club.
Ballistic control system "Bacosy"
Ballistic - control - system
Adjust loft: Can tune to -1 degree from the loft stated on the clubhead
Adjust club balance: Switch out interchangeable weights (sold separately)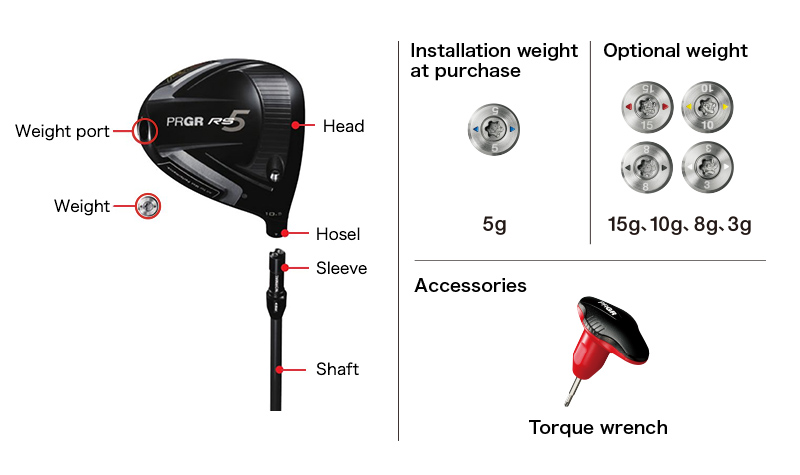 [ Decrease loft by one degree ]
Remove the clubhead from the shaft, rotate the shaft
a half-turn and reinstall to decrease the loft by one degree
for a lower launch.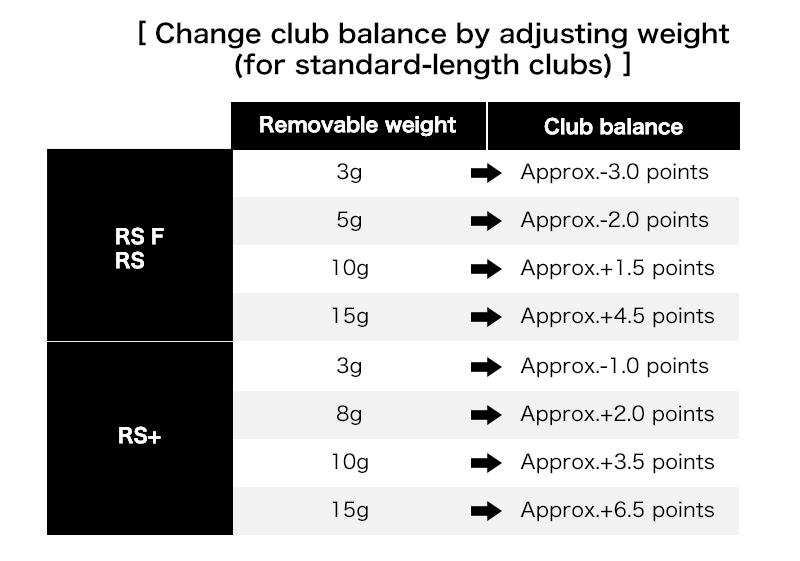 SPEC
<Made in JAPAN><Made in CHINA>
*Conforms to SLE rules
*With an original head cover (made in CHINA), a special wrench.
*Club length: determined by JGGA measurement.
Comparison of RS DRIVER
RS+ DRIVER

RS DRIVER

Shaft Specs

SR (M-40)

R (M-37)

S (M-43)

SR (M-40)

R (M-37)

Loft angle(°)

10.5

11.5

10.5

11.5

9.5

10.5

9.5

10.5

9.5

10.5

Volume(cm3)

460

460

Face angle(°)

-2.0

-2.0

Lie angle(°)

59

59

Length(inch)

47.5

45.5

Total weight(g)

294

294

289

289

308

308

304

304

300

300

Balance

D-1.5

D-1.5

D-1

D-1

D-2

D-2

D-1.5

D-1.5

D-1

D-1

Shaft weight(g)

48

48

43

43

54

54

50

50

46

46

Shaft torque(°)

5.5

5.5

7.0

7.0

4.7

4.7

5.4

5.4

5.7

5.7

Shaft KP

M

M

Grip

Weight: 45.0, Diameter:60, Code:None, Back line:None

Weight: 50.0, Diameter:60, Code:None, Back line:None

Materials

Face: Titanium (Ti-6Al-4V)
Body: Titanium (Ti-8Al-1V-1Mo)
Crown: Original carbon (CFRP)
Weight: RS+ / 5g (Titanium / Ti-6Al-4V)

Face: Titanium (Ti-6Al-4V)
Body: Titanium (Ti-8Al-1V-1Mo)
Crown: Original carbon (CFRP)
Weight: RS / 8g (Stainless/SUS630)

Manufacturing process

Face: CNC milling
Body: Vacuum precision casting
Crown: Press molding

Face: CNC milling
Body: Vacuum precision casting
Crown: Press molding