High initial velocity and high trajectory at the limit of the rules.Achieves just as much flight as required.
New power flange which is exclusive to Red egg *1 is used for Fairway Wood as well as Utility.
There is a large deflection in the entire flange, and a larger sweet spot has been achieved with a high drive.
Advances have been made in keeping the CoG low for Fairway Wood, and a Brassie (2W) has also been launched. Attacks with force and height, and targets a 2-ON to get to the green in 2 shots.
Utility has a deep face and low CoG. Despite the strong loft, can target the green with the high trajectory of the flight.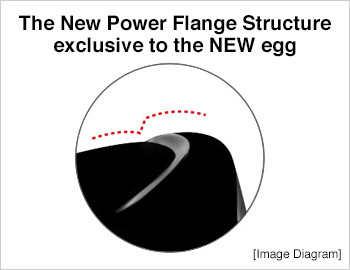 The step of the flange has been designed as an indented shape, and the sweet spot has been made larger.


The exclusive shaft for both the Fairway Wood and Utility models use a handle in which the grip has been made more rigid for a firmer feel.
The tip is designed with low rigidity to allow the ball to be lifted with ease.
*1. Power flange structure...Registered Patent No. 5882522
SPEC(Men's)
<Made in CHINA><Made in JAPAN>
*Product which conforms to SLE rules, and conforms to the new groove rules introduced in 2010
*With original head cover(Made in CHINA)
Comparison of RED FAIRWAY WOOD
Comparison of RED FAIRWAY WOOD
egg FAIRWAY WOOD

RED FAIRWAY WOOD

Club #

2W

3W

5W

7W

9W

11W

3W

5W

7W

Loft angle(°)

13.0

15.0

18.0

21.0

24.0

27.0

16.0

19.0

22.0

Volume(cm3)

180

180

170

155

150

145

194

176

164

Face angle(°)

-3.0

-1.0

-2.5

-2.5

Lie angle(°)

58.5

58.5

59.0

59.5

60.0

60.5

59.5

60.0

60.5

Length(inch)

M-43 (S)

43.5

43.0

42.5

42.0

-

-

-

M-40 (SR)

43.5

43.0

42.5

42.0

41.5

41.0

43.0

42.0

41.5

M-37 (R)

43.5

43.0

42.5

42.0

41.5

41.0

43.0

42.0

41.5

M-35 (R2)

-

42.5

42.0

41.5

41.0

40.5

42.5

41.5

41.0

Total weight(g)

M-43 (S)

298

302

306

311

-

-

-

M-40 (SR)

295

299

303

308

313

317

292

300

303

M-37 (R)

293

297

301

306

311

315

291

298

302

M-35 (R2)

-

296

300

306

310

315

288

294

298

Balance

M-43 (S)

D-0.5

-

M-40 (SR)

D-0

D-0

M-37 (R)

D-0

D-0

M-35 (R2)

C-7.5

C-7.5

Shaft weight(g)

M-43 (S)

53

53

52

53

-

-

-

M-40 (SR)

50

50

49

50

50

49

46.0

45.0

44.0

M-37 (R)

48

48

47

48

48

47

45.0

43.0

42.0

M-35 (R2)

-

47

46

48

47

47

43.0

41.0

40.0

Shaft torque(°)

M-43 (S)

4.2

4.2

4.2

4.2

-

-

-

M-40 (SR)

4.5

4.5

4.5

4.5

4.5

4.5

6.2

M-37 (R)

4.7

4.7

4.7

4.6

4.6

4.6

6.3

M-35 (R2)

-

5.2

5.2

4.9

4.9

4.9

6.2

Shaft KP

M

H

Grip

Weight:37.5, Diameter:M60, Code:None

Weight:36.0, Diameter:60, Code:None, Back-line: Yes

Material

2w,3w,5w
Face-Crown:Titanium(Ti-6Al-4V)
Sole:Tungsten alloy(Ni,W,Fe)
7w,9w,11w
Face-Crown:Maraging steel(Custom450)
Sole:Tungsten alloy(Ni,W,Fe)

Face:Titanium(LD433P)
Body:Titanium(Ti-6AI-4V)
Weight:Tungsten alloy(Ni,W,Fe)

Manufacturing process

Face-Crown:Precision casting
Sole:Precision casting

Face:Casting
Body:Vacuum precision casting
Weight:Powder metallurgy
SPEC(Ladies')
<Made in CHINA><Made in JAPAN>
*Product which conforms to SLE rules, and conforms to the new groove rules introduced in 2010
*With original head cover(Made in CHINA)