Both FW and UT have been launched with high repulsion.
The flight of the Gold egg is at a different level.
Gold egg has been finally launched as the high repulsion fairway wood, and high repulsion utility.
The new power flange *1 exclusively for Red egg, which is as effective as when the face area is made larger,
demonstrates its power both in FW and UT, and achieves high repulsion of over COR 0.84 *2.
The face and the body around it have been made as thin as possible for improved kick velocity.
A low CoG has been achieved despite the deep face to allow the ball to be lifted with ease.
Launches with high repulsion even from the fairway.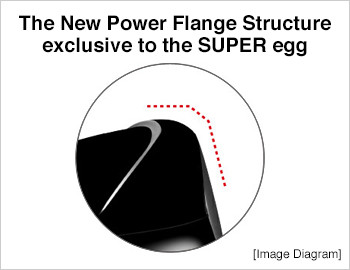 Designed with a large flange angle
with the deflection concentrated in the face.
The face and surrounding body have been made as thin as possible to increase the kick velocity.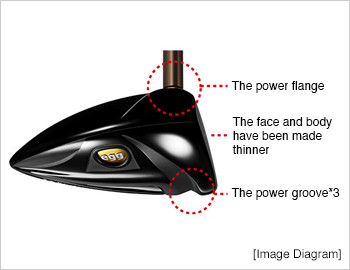 Increase in the extent and area of deflection on the face.
A Brassie (2W) which leverages the power obtained through high repulsion, and offers a leaping flight, has also been launched.

Lightweight medium butt-like shaft provides improved handle rigidity,
and ensures swinging comfort despite being lightweight.
*1. Power flange structure...Registered Patent No. 5882522
*2 COR...Value measured under the conditions defined by the R&A / USGA golf rules up to March 2016
*3. Power groove structure...Patent pending
<!>Please do not hit with a head speed of 43 m/s or more as it may lead to damage of the product
SPEC(Men's)
<Made in CHINA><Made in JAPAN>
*Non-conforming to SLE rules.
<!>Gold egg driver does not conform to the SLE rules of R&A and USGA. Please use only for playing golf non-competitively.
Please do not hit with a head speed of 43 m/s or more as it may lead to damage of the product
*With original head cover(Made in CHINA)
Comparison of egg FAIRWAY WOOD
Comparison of egg FAIRWAY WOOD
SUPER egg FAIRWAY WOOD

egg FAIRWAY WOOD

Club #

2W

3W

5W

7W

2W

3W

5W

7W

9W

11W

Loft angle(°)

14.0

16.0

19.0

22.0

13.0

15.0

18.0

21.0

24.0

27.0

Volume(cm3)

175

175

165

160

180

180

170

155

150

145

Face angle(°)

-2.0

-3.0

Lie angle(°)

58.5

58.5

59.0

59.5

58.5

58.5

59.0

59.5

60.0

60.5

Length(inch)

M-43 (S)

-

43.5

43.0

42.5

42.0

-

-

M-40 (SR)

43.5

43.0

42.5

42.0

43.5

43.0

42.5

42.0

41.5

41.0

M-37 (R)

43.5

43.0

42.5

42.0

43.5

43.0

42.5

42.0

41.5

41.0

M-35 (R2)

-

42.5

42.0

41.5

-

42.5

42.0

41.5

41.0

40.5

Total weight(g)

M-43 (S)

-

298

302

306

311

-

-

M-40 (SR)

293

297

300

304

295

299

303

308

313

317

M-37 (R)

292

295

299

302

293

297

301

306

311

315

M-35 (R2)

-

293

297

301

-

296

300

306

310

315

Balance

M-43 (S)

-

D-0.5

M-40 (SR)

D-0

D-0

M-37 (R)

D-0

D-0

M-35 (R2)

C-7.5

C-7.5

Shaft weight(g)

M-43 (S)

-

53

53

52

53

-

-

M-40 (SR)

47

46

45

44

50

50

49

50

50

49

M-37 (R)

46

45

44

43

48

48

47

48

48

47

M-35 (R2)

-

42

41

40

-

47

46

48

47

47

Shaft torque(°)

M-43 (S)

-

4.2

4.2

4.2

4.2

-

-

M-40 (SR)

6.3

6.3

6.3

6.3

4.5

4.5

4.5

4.5

4.5

4.5

M-37 (R)

6.3

6.3

6.3

6.3

4.7

4.7

4.7

4.6

4.6

4.6

M-35 (R2)

-

6.1

6.1

6.1

-

5.2

5.2

4.9

4.9

4.9

Shaft KP

H

M

Grip

Weight:37.5 Diameter:M60 Code:None

Weight:37.5 Diameter:M60 Code:None

Material

Face:Maraging steel(C300)
Body:Maraging steel(AM355P)

2w,3w,5w
Face-Crown:Titanium(Ti-6Al-4V)
Sole:Tungsten alloy(Ni,W,Fe)
7w,9w,11w
Face-Crown:Maraging steel(Custom450)
Sole:Tungsten alloy(Ni,W,Fe)

Manufacturing process

Face:Rolled metal
Body:Precision casting

Face-Crown:Precision casting
Sole:Precision casting
SPEC(Ladies')
<Made in CHINA><Made in JAPAN>
*Non-conforming to SLE rules.
<!>Gold egg driver does not conform to the SLE rules of R&A and USGA. Please use only for playing golf non-competitively.
Please do not hit with a head speed of 43 m/s or more as it may lead to damage of the product
*With original head cover(Made in CHINA)