Take off with the sharp contours. Feel the softness of the strike.
Everything is on a higher level with this high initial velocity iron.
The new RED titanium-faced iron has enhanced resilience with a thin-walled titanium face. The use of vibration-absorbing material FLASH ONE*1 not only allows for more powerful play off the titanium face but also creates a soft hitting sensation. The head with sharp contours and a low center of gravity makes lifting the ball even easier. This new RED titanium-faced iron will give you the look and distance. Golf has never been so much fun!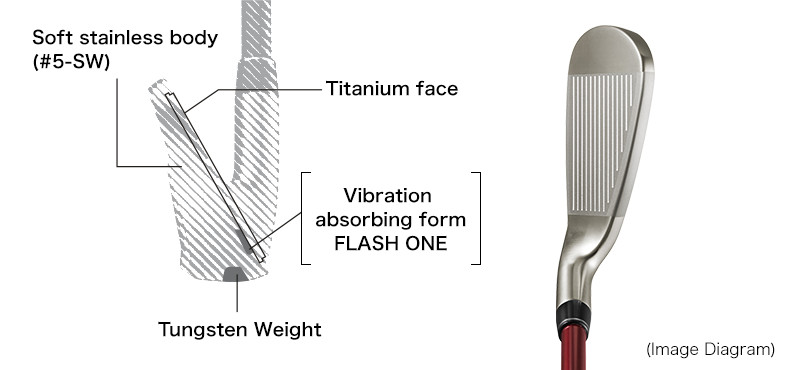 The SOFT STEEL M-37 has the lightest steel shaft in PRGR history besides the new Speed Impact Shaft (carbon). It provides great direction and distance and an easy and steady swing. The shaft is more rigid around the grip and bends more smoothly from the center to the head than any other steel shaft.

*1 HAMATITE® FLASH ONE is a registered trademark of The Yokohama Rubber Co., Ltd..
*2 Head structure ... Registered Patent No.5692454, Registered Patent No.5708870
SPEC
<Made in JAPAN><Made in CHINA>
Specs may be changed without prior notice.
Data indicated are those of values for club design. Club design values and actual values may differ slightly.
Due to PC environment, some catalog product colors may differ slightly from the actual colors. Please check the actual product at a store.
Compare to the RS TITAN FACE IRON
Comparison with the RS TITAN FACE IRON
RED TITAN FACE IRON

RS TITAN FACE IRON

Club #

#5

#6

#7

#8

#5

#6

#7

#8

Loft angle/bounce angle(°)

24

26

28

32

24

27

30

34

Lie angle(°)

62.0

62.5

63.0

63.5

62.0

62.5

63.0

63.5

Face progression(mm)

2.5

3.0

3.0

3.5

3.0

3.5

3.5

4.0

Length(inch)

M-43CB (S)

-

38.0

37.5

37.0

36.5

M-40CB (SR)

38.5

38.0

37.5

37.0

38.0

37.5

37.0

36.5

M-37CB (R)

38.5

38.0

37.5

37.0

38.0

37.5

37.0

36.5

M-35CB (R2)

38.0

37.5

37.0

36.5

-

SOFT STEEL M-37 (R)

38.25

37.75

37.25

36.75

-

Total weight(g)

M-43CB (S)

-

373

380

387

395

M-40CB (SR)

338

344

350

358

369

376

383

390

M-37CB (R)

336

342

348

356

366

373

380

388

M-35CB (R2)

335

341

347

355

-

SOFT STEEL M-37 (R)

361

367

374

379

-

Balance

M-43CB (S)

-

D-0.5

M-40CB (SR)

C-9.0

D-0.0

M-37CB (R)

C-9.0

C-9.5

M-35CB (R2)

C-6.0

-

SOFT STEEL M-37 (R)

D-0.5

-

Shaft weight(g)

M-43CB (S)

-

59

60

61

61

M-40CB (SR)

51

51

52

53

56

57

57

58

M-37CB (R)

49

50

50

51

54

55

55

56

M-35CB (R2)

48

49

49

50

-

SOFT STEEL M-37 (R)

76

76

76

76

-

Shaft torque(°)

M-43CB (S)

-

3.2

3.0

3.0

2.9

M-40CB (SR)

4.3

4.1

3.8

3.6

3.2

3.1

3.0

3.0

M-37CB (R)

4.3

4.1

3.8

3.7

3.3

3.1

3.1

3.0

M-35CB (R2)

4.3

4.1

3.8

3.6

-

SOFT STEEL M-37 (R)

3.2

3.1

3.0

2.9

-

Shaft KP

H

M

Grip

Weight:36.0, Diameter:60, Code:None, Back line:Yes

Weight:50.0, Diameter:60, Code:None, Back line:None

Material

Face:Titanium(LD433P)/#5-#9
Body:Soft Stainless(ST-22)/#5-Sw
Weight:Tungsten alloy(Ni,W,Fe)/#5-Pw

Face:Titanium(LD433P)/#5-#9
Body:Soft Stainless(ST-22)/#5-Sw
Weight:Tungsten alloy/#5-Pw

Manufacturing process

Face:Rolled metal/#5-#9
Body:Precision casting/#5-Sw
Weight:Precision casting/#5-Pw

Face:Rolled metal/#5-#9
Body:Precision casting/#5-Sw
Weight:Precision casting/#5-Pw
RED TITAN FACE IRON

RS TITAN FACE IRON

Club #

#9

Pw

Aw

Sw

#9

Pw

Aw

Sw

Loft angle/bounce angle(°)

37

42

49/7.5

56/11.0

39

44

50/8.0

56/10.0

Lie angle(°)

64.0

64.5

64.5

64.5

64.0

64.5

64.5

64.5

Face progression(mm)

3.5

4.0

4.0

4.0

4.0

4.0

4.5

4.5

Length(inch)

M-43CB (S)

-

36.0

35.5

-

M-40CB (SR)

36.5

36.0

35.5

35.5

36.0

35.5

-

M-37CB (R)

36.5

36.0

35.5

35.5

36.0

35.5

-

M-35CB (R2)

36.0

35.5

35.0

35.0

-

SOFT STEEL M-37 (R)

36.25

35.75

35.25

35.25

-

FOR WEDGE CB MENS

-

-

35.5

35.5

Total weight(g)

M-43CB (S)

-

402

410

-

M-40CB (SR)

363

372

381

381

399

407

-

M-37CB (R)

362

371

380

380

396

403

-

M-35CB (R2)

361

370

380

380

-

SOFT STEEL M-37 (R)

387

395

402

402

-

FOR WEDGE CB MENS

-

-

409

409

Balance

M-43CB (S)

-

D-0.5

-

M-40CB (SR)

C-9.0

D-0.0

-

M-37CB (R)

C-9.0

C-9.5

-

M-35CB (R2)

C-6.0

-

SOFT STEEL M-37 (R)

D-0.5

-

FOR WEDGE CB MENS

-

-

D-0.0

Shaft weight(g)

M-43CB (S)

-

61

62

-

M-40CB (SR)

53

54

54

54

59

60

-

M-37CB (R)

52

53

53

53

57

58

-

M-35CB (R2)

51

52

53

53

-

SOFT STEEL M-37 (R)

76

76

75

75

-

FOR WEDGE CB MENS

-

-

61

61

Shaft torque(°)

M-43CB (S)

-

2.8

2.8

-

M-40CB (SR)

3.4

3.3

3.1

3.1

2.9

2.8

-

M-37CB (R)

3.4

3.2

3.1

3.1

2.8

2.8

-

M-35CB (R2)

3.5

3.3

3.1

3.1

-

SOFT STEEL M-37 (R)

2.9

2.8

2.7

2.7

-

FOR WEDGE CB MENS

-

-

2.8

2.8

Shaft KP

H

M

-

Grip

Weight:36.0, Diameter:60, Code:None, Back line:Yes

Weight:50.0, Diameter:60, Code:None, Back line:None

Material

Face:Titanium(LD433P)/#5-#9
Body:Soft Stainless(ST-22)/#5-Sw
Weight:Tungsten alloy(Ni,W,Fe)/#5-Pw

Face:Titanium(LD433P)/#5-#9
Body:Soft Stainless(ST-22)/#5-Sw
Weight:Tungsten alloy/#5-Pw

Manufacturing process

Face:Rolled metal/#5-#9
Body:Precision casting/#5-Sw
Weight:Precision casting/#5-Pw

Face:Rolled metal/#5-#9
Body:Precision casting/#5-Sw
Weight:Precision casting/#5-Pw