Flight, feel, and design.
The more radical the product, the more beautiful it looks. Red egg IRONS PF.
The high kick velocity dual L cup face used in the new Red egg IRONS PF is a face with a high kick velocity in which both ends of a high strength plate material have been bent to an L shape.
The thin area of the face has been widened, to achieve repulsion at the limit of the rules, and a larger sweet spot.
In addition, a narrow groove has been machined on the reverse of the face to increase the deflection of the face up to the bottom.
It has a forged body made of soft iron and a sharp design. This is truly the launch of a power forged iron which can rightly be said to have revolutionized flight.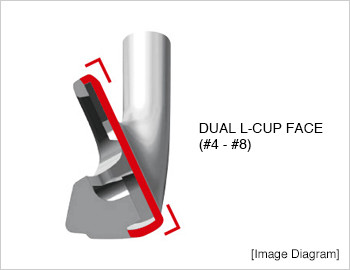 Dual L cup face (#4 - #8)
Face structure which has a larger sweet spot, and achieves high repulsion performance.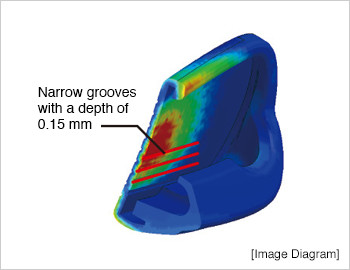 Narrow grooves with depth of 0.15 mm are machined on the bottom of the face on the reverse.
The sweet spot has been extended up to the bottom. (Patent pending)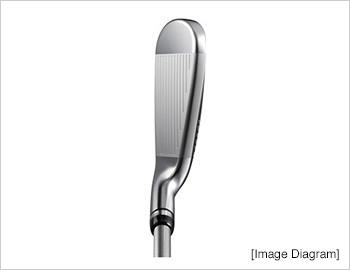 Slim head with low and deep center of gravity.
High kick velocity and high trajectory are a natural result of this head.

The exclusive shaft is designed for a firm feel. The tip is very flexible,
and the shaft is made of soft steel to allow the ball to be lifted with ease.
SPEC(Men's)
<Made in JAPAN>
*Product which conforms to SLE rules, and conforms to the new groove rules introduced in 2010
Comparison of egg IRONS PC
egg IRONS PF

egg IRONS PC

Club #

#4

#5

#6

#7

#8

#6

#7

#8

Loft angle/bounce angle(°)

20

22

24

26

29

23

25

28

Lie angle(°)

60.5

61.0

61.5

62.0

62.5

61.5

62.0

62.5

Face progression(mm)

3.5

3.5

4.0

4.0

4.0

4.0

4.0

3.0

Length(inch)

M-43CB (S)

39.75

39.25

38.75

38.25

37.75

38.75

38.25

37.75

M-40CB (SR)

39.75

39.25

38.75

38.25

37.75

38.75

38.25

37.75

M-37CB (R)

39.75

39.25

38.75

38.25

37.75

38.75

38.25

37.75

M-35CB (R2)

-

38.50

38.00

37.50

SOFT STEEL M-40ST (SR)

39.50

39.00

38.50

38.00

37.50

-

SOFT STEEL M-37ST (R)

39.50

39.00

38.50

38.00

37.50

-

Total weight(g)

M-43CB (S)

330

334

341

347

354

340

346

353

M-40CB (SR)

326

330

336

342

349

335

340

347

M-37CB (R)

325

329

335

341

348

334

340

347

M-35CB (R2)

-

334

339

346

SOFT STEEL M-40ST (SR)

361

366

372

378

384

-

SOFT STEEL M-37ST (R)

359

363

368

374

380

-

Balance

M-43CB (S)

D-0.5

D-0.5

D-0.5

D-0.5

D-0.5

D-0

M-40CB (SR)

D-0

D-0

D-0

D-0

D-0

C-0

M-37CB (R)

D-0

D-0

D-0

D-0

D-0

C-0

M-35CB (R2)

-

D-7.5

SOFT STEEL M-40ST (SR)

D-1.5

D-1.5

D-1.5

D-1.5

D-1.5

-

SOFT STEEL M-37ST (R)

D-1.5

D-1.5

D-1.5

D-1.5

D-1.5

-

Shaft weight(g)

M-43CB (S)

47

47

48

49

51

49

50

51

M-40CB (SR)

44

44

44

45

46

45

45

47

M-37CB (R)

43

43

43

44

46

44

44

46

M-35CB (R2)

-

44

45

46

SOFT STEEL M-40ST (SR)

81

81

81

81

81

-

SOFT STEEL M-37ST (R)

78

77

77

76

76

-

Shaft torque(°)

M-43CB (S)

4.4

4.3

4.1

3.9

3.8

4.1

3.9

3.8

M-40CB (SR)

5.1

5.1

4.9

4.7

4.5

4.9

4.7

4.5

M-37CB (R)

5.3

5.1

4.7

4.6

4.5

4.7

4.6

4.5

M-35CB (R2)

-

4.2

4.1

4.0

SOFT STEEL M-40ST (SR)

2.9

2.8

2.8

2.7

2.6

-

SOFT STEEL M-37ST (R)

3.2

3.3

3.2

3.1

3.0

-

Shaft KP

M-43CB (S)

M

M

M-40CB (SR)

M

M

M-37CB (R)

M

M

M-35CB (R2)

-

M

SOFT STEEL M-40ST (SR)

H

-

SOFT STEEL M-37ST (R)

H

-

Grip

Weight:37.5, Diameter:M60, Code:None

Weight:37.5, Diameter:M60, Code:None

Material

Face:Nickel chromium molybdenum steel(SAE8655)#4-Aw
Body:Soft Stainless(S45C)#4-Aw
Body:Soft Stainless(S20C)As,Sw

Face-Body:Maraging steel(AM355P)
Weight:Tungsten alloy(Ni,W,Fe)#6~Pw only

Manufacturing process

Face:Rolled metal#4-Aw
Body:Casting+Machining(CNC processing)
CastingAs,Sw

Face-Body:Precision casting
Weight:Precision casting
egg IRONS PF

egg IRONS PC

Club #

#9

Pw

Aw

As

Sw

#9

Pw

Aw

As

Sw

Loft angle/bounce angle(°)

33

38

43/6.5

49/7.5

56/11.0

32

37

43/6.0

49/6.5

56/6.5

Lie angle(°)

63.0

63.5

63.5

64.0

64.0

63.0

63.5

63.5

64.0

64.0

Face progression(mm)

4.5

5.0

5.0

5.0

5.0

3.0

3.0

4.0

4.0

4.0

Length(inch)

M-43CB (S)

37.25

36.75

36.00

35.25

35.25

37.25

36.75

36.00

35.25

35.25

M-40CB (SR)

37.25

36.75

36.00

35.25

35.25

37.25

36.75

36.00

35.25

35.25

M-37CB (R)

37.25

36.75

36.00

35.25

35.25

37.25

36.75

36.00

35.25

35.25

M-35CB (R2)

-

37.00

36.50

35.75

35.00

35.00

SOFT STEEL M-40ST (SR)

37.00

36.50

35.75

35.00

35.00

-

SOFT STEEL M-37ST (R)

37.00

36.50

35.75

35.00

35.00

-

Total weight(g)

M-43CB (S)

361

370

383

399

398

359

369

383

396

396

M-40CB (SR)

356

366

379

396

395

354

364

378

392

391

M-37CB (R)

356

364

378

397

396

354

363

378

393

392

M-35CB (R2)

-

354

362

376

390

389

SOFT STEEL M-40ST (SR)

391

397

408

419

418

-

SOFT STEEL M-37ST (R)

386

393

403

414

413

-

Balance

M-43CB (S)

D-0.5

D-0.5

D-0.5

D-1.5

D-1.5

D-0

M-40CB (SR)

D-0

D-0

D-0

D-1

D-1

C-0

M-37CB (R)

D-0

D-0

D-0

D-1

D-1

C-0

M-35CB (R2)

-

D-7.5

SOFT STEEL M-40ST (SR)

D-1.5

D-1.5

D-1.5

D-1.5

D-1.5

-

SOFT STEEL M-37ST (R)

D-1.5

D-1.5

D-1.5

D-1.5

D-1.5

-

Shaft weight(g)

M-43CB (S)

51

55

58

61

61

52

55

58

61

61

M-40CB (SR)

48

51

55

58

58

48

51

55

58

58

M-37CB (R)

48

49

54

59

59

48

49

54

59

59

M-35CB (R2)

-

47

49

53

57

57

SOFT STEEL M-40ST (SR)

81

80

80

80

80

-

SOFT STEEL M-37ST (R)

76

76

75

74

74

-

Shaft torque(°)

M-43CB (S)

3.7

3.3

3.2

2.9

2.9

3.7

3.3

3.2

2.9

2.9

M-40CB (SR)

4.4

4.0

3.2

2.8

2.8

4.4

4.0

3.2

2.8

2.8

M-37CB (R)

4.3

3.9

3.1

2.7

2.7

4.3

3.9

3.1

2.7

2.7

M-35CB (R2)

-

3.8

3.5

3.2

2.8

2.8

SOFT STEEL M-40ST (SR)

2.6

2.5

2.4

2.3

2.3

-

SOFT STEEL M-37ST (R)

2.9

2.9

2.8

2.7

2.7

-

Shaft KP

M-43CB (S)

M

M

M-40CB (SR)

M

M

M-37CB (R)

M

M

M-35CB (R2)

-

M

SOFT STEEL M-40ST (SR)

H

-

SOFT STEEL M-37ST (R)

H

-

Grip

Weight:37.5, Diameter:M60, Code:None

Weight:37.5, Diameter:M60, Code:None

Material

Face:Nickel chromium molybdenum steel(SAE8655)#4-Aw
Body:Soft Stainless(S45C)#4-Aw
Body:Soft Stainless(S20C)As,Sw

Face-Body:Maraging steel(AM355P)
Weight:Tungsten alloy(Ni,W,Fe)#6~Pw only

Manufacturing process

Face:Rolled metal#4-Aw
Body:Casting+Machining(CNC processing)
CastingAs,Sw

Face-Body:Precision casting
Weight:Precision casting