Attacking the green with high COR and high ball flight like nothing before.
Non-conforming face using high strength maraging steel face
Hollow structure and very forgiving head
Low・deep center + Large FP design, provides high ball flight never seen before.
Hit irons with High COR + high ball flight.
AS、SW adopts a 凹 style scoreline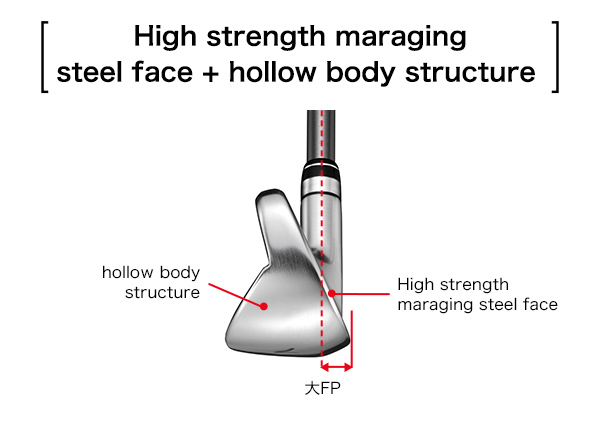 Iron does not conform to the SLE Rules in order to produce high COR
Hollow Body and wide sole structure to increase forgiveness
「Low and Deep Center」+「Large FP Structure」
Strong lofted irons、with low and deep center helps high launch and high ball flight than ever before.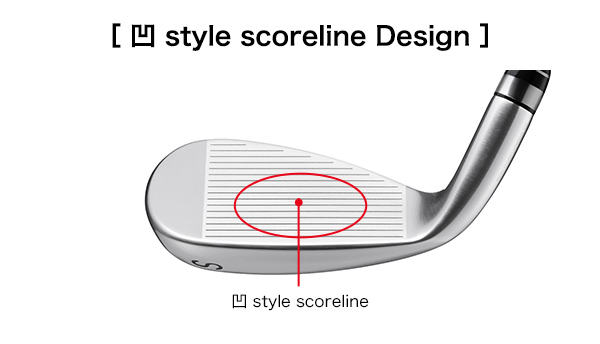 AS、SW adopts a 凹 style scoreline (non-conforming)
Pursues not only long distance but also spin performance.

Bends at the end of the grip for acceleration and has a firm tip to lessen mis hits
Designed so that it bends softly during the downswing
SPEC
<Made in JAPAN><Made in CHINA>
*SUPER egg IRON does not conform to R&A and USGA SLE rules. See here for details.
*With original head cover (Made in China)
*Club length: determined by PRGR measurement.
Comparison of NEW egg IRON
SUPER egg IRON

NEW egg IRON

Shaft specs

#5

#6

#7

#8

#9

#6

#7

#8

#9

Loft angle/bounce angle(°)

21

23

25

28

32

23

25

28

32

Lie angle(°)

61

61.5

62

62.5

63

61.5

62

62.5

63

Face progression(mm)

8.5

8.5

8.0

8.0

7.5

4.0

4.0

3.0

3.0

Length(inch)

M-43 (S)

39.25

38.75

38.25

37.75

37.25

38.75

38.25

37.75

37.25

M-40 (SR)

39.25

38.75

38.25

37.75

37.25

38.75

38.25

37.75

37.25

M-37 (R)

39.25

38.75

38.25

37.75

37.25

38.75

38.25

37.75

37.25

M-35 (R2)

-

38.5

38

37.5

37

38.50

38.00

37.50

37.00

Total weight(g)

M-43 (S)

336

342

347

355

362

338

345

351

359

M-40 (SR)

332

338

343

351

358

333

339

346

353

M-37 (R)

332

338

343

351

358

332

339

345

353

M-35 (R2)

-

337

343

350

357

332

339

345

353

Balance

M-43 (S)

C-9.5

D-0.5

M-40 (SR)

C-9.5

D-0

M-37 (R)

C-9.5

D-0

M-35 (R2)

-

C-8

C-8.5

Shaft weight(g)

M-43 (S)

50

48

49

51

52

49

50

51

52

M-40 (SR)

45

45

46

47

49

45

45

47

48

M-37 (R)

44

45

45

46

48

44

45

46

48

M-35 (R2)

-

44

45

46

48

44

45

46

47

Shaft torque(°)

M-43 (S)

4.1

4.0

3.9

3.8

3.8

4.1

3.9

3.8

3.7

M-40 (SR)

4.7

4.6

4.6

4.1

4.1

4.9

4.7

4.5

4.4

M-37 (R)

4.8

4.3

4.3

4.1

4.2

4.7

4.6

4.5

4.3

M-35 (R2)

-

4.2

4.1

4.0

3.8

4.2

4.1

4.0

3.8

Shaft KP

M

M

Grip

Weight: 42.5, Diameter: M60, Code: None, Back line: Yes

Weight: 37.5, Diameter: M60, Code: None, Back line: Yes

Materials

#5-A / Maraging steel (MAS1C)
#5-S / Maraging steel (HS1400)

Face-Body: Maraging steel (AM355P)
Weight: Tungsten alloy(Ni, W, Fe) (#6-P)

Manufacturing

#5-A / Face: Rolled metal
#5-S / Body: Precision casting

Face-Body: Precision casting
Weight: Precision casting
SUPER egg IRON

NEW egg IRON

Shaft specs

P

A

As

S

P

A

As

S

Loft angle/bounce angle(°)

37/3.5

43/3.5

49/9.5

56/11.5

37

43/7.0

49/7.0

56/7.0

Lie angle(°)

63.5

63.5

64

64

63.5

63.5

64

64

Face progression(mm)

7.0

6.5

6.5

6.5

3.0

4.0

4.0

4.0

Length(inch)

M-43 (S)

36.75

36

35.5

35.5

36.75

36

35.5

35.5

M-40 (SR)

36.75

36

35.5

35.5

36.75

36

35.5

35.5

M-37 (R)

36.75

36

35.5

35.5

36.75

36

35.5

35.5

M-35 (R2)

36.5

35.75

35.25

35.25

36.75

36

35.5

35.5

Total weight(g)

M-43 (S)

372

387

399

398

369

381

393

392

M-40 (SR)

368

384

395

395

363

376

388

387

M-37 (R)

366

384

395

395

361

376

389

388

M-35 (R2)

366

382

395

394

361

375

386

385

Balance

M-43 (S)

C-9.5

D-0.5

D-0.5

M-40 (SR)

C-9.5

D-0.5

D-0

M-37 (R)

C-9.5

D-0.5

D-0

M-35 (R2)

C-8

C-9

C-8.5

Shaft weight(g)

M-43 (S)

56

59

63

63

55

58

63

63

M-40 (SR)

52

56

60

60

51

55

59

59

M-37 (R)

50

55

60

60

49

55

60

60

M-35 (R2)

50

53

59

59

49

53

57

57

Shaft torque(°)

M-43 (S)

3.2

3.1

2.8

2.8

3.3

3.2

2.9

2.9

M-40 (SR)

3.6

3.1

2.8

2.8

4.0

3.2

2.8

2.8

M-37 (R)

3.6

3.0

2.8

2.8

3.9

3.1

2.7

2.7

M-35 (R2)

3.5

3.4

2.8

2.8

3.5

3.2

2.8

2.8

Shaft KP

M

M

Grip

Weight: 42.5, Diameter: M60, Code: None, Back line: Yes

Weight: 37.5, Diameter: M60, Code: None, Back line: Yes

Materials

#5-A / Maraging steel (MAS1C)
#5-S / Maraging steel (HS1400)

Face-Body: Maraging steel (AM355P)
Weight: Tungsten alloy(Ni, W, Fe) (#6-P)

Manufacturing

#5-A / Face: Rolled metal
#5-S / Body: Precision casting

Face-Body: Precision casting
Weight: Precision casting