Use high repulsion irons to gain distance
and give yourself a big smile
Super egg irons, from a 5 iron to a pitching wedge, are high-repulsion clubs. This means that the player has the advantage of a higher initial velocity. The astonishing high repulsion, high initial velocity, and high trajectory make it possible to hit 190 yards with a 7 iron. The 5 iron to the pitching wedge have a hollow structure with a high repulsion maraging face, maximally reducing the thickness to 1.9 mm. High-repulsion performance has been achieved with a coefficient of repulsion exceeding 0.83. The 5 and the 6 irons are utility shaped, which means that a player can easily hit long distances with these middle irons, without feeling any unwanted pressure. All egg irons have oversized heads, giving a sense of security to the player at address. Enjoy hitting long distances with irons, just as with a driver.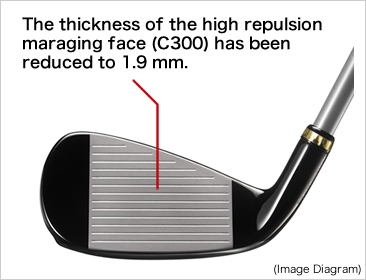 Sole blades are designed with thin walls.
All irons have wide soles with high FP values.
Easy hitting brings a stress-free launch that results in long flying distances.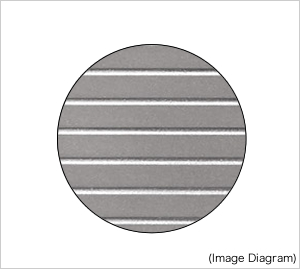 Square grooved score lines (rules non-conforming) are used in wedges (AW, AS, SW), which means that a player can easily hit spin balls that stop softly on the green.

The whole shaft is designed with increased flexibility, to facilitate easy swings.
Rigidity is increased toward the tip for hitting strong shots.
*Coefficient of repulsion: rates measured under R&A COR conditions
<PLEASE NOTE> Super egg irons do not conform to R&A and USGA SLE rules.
The wedges (AW, AS, and SW) do not meet the new 2010 rules for grooves. These clubs should only be used for private games.