A high initial velocity, high trajectory utility.
Go for the pin with a comfortable swing-through.
The new RED utility has enhanced resilience with a W crown structure *1 + a thin-walled face. It gives longer distances and higher initial velocity. The sole allows for a smooth swing that can lift the ball from any lie. It is a lightweight design suitable for seasoned golfers who prefer to hit the ball with a comfortable swing-through. Further, it is specifically structured to give off a pleasant sound when hit.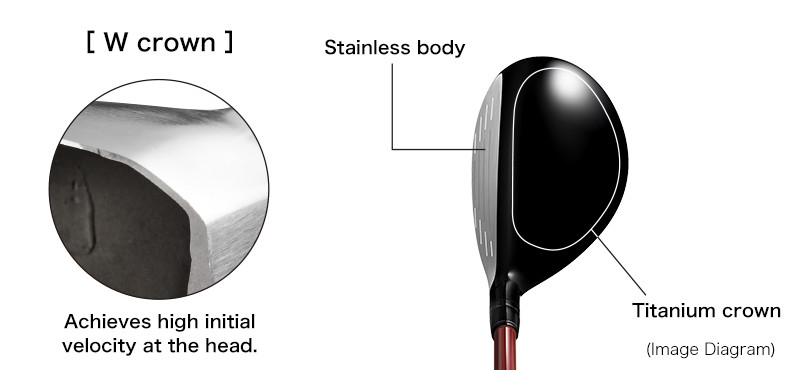 The head has a low center of gravity, made of a titanium crown and stainless steel body.
It is easier to launch the ball as it has a high trajectory for more aggressive play.
The new Speed Impact Shaft

The shaft has the same design as the driver and the fairway wood.
The grip is firm and has enhanced flexibility for better acceleration.
*1 Crown Structure Patent pending
SPEC
<Made in JAPAN><Made in CHINA>
*With original head cover (Made in China)
* Made-to-order model ... custom shaft model
Specs may be changed without prior notice.
Data indicated are those of values for club design. Club design values and actual values may differ slightly.
Due to PC environment, some catalog product colors may differ slightly from the actual colors. Please check the actual product at a store.
Comparison with the RS UTILITY
RED UTILITY

RS UTILITY

Club #

3UT

4UT

5UT

6UT

3UT

4UT

5UT

6UT

Loft angle(°)

20.0

22.0

24.0

26.0

19.0

22.0

25.0

28.0

Volume(cm3)

121

116

108

105

118

116

108

106

Face angle(°)

-2.0

-3.0

-3.0

-3.0

-3.0

Lie angle(°)

60.5

60.5

61.0

61.0

60.5

60.5

61.0

61.0

Length(inch)

M-46 (SX)

-

40.0

39.5

39.0

-

M-43 (S)

-

40.0

39.5

39.0

-

M-40 (SR)

40.5

40.0

39.5

39.0

40.0

39.5

39.0

38.5

M-37 (R)

40.5

40.0

39.5

39.0

40.0

39.5

39.0

38.5

M-35 (R2)

40.0

39.5

39.0

38.5

-

Total weight(g)

M-46 (SX)

-

352

357

363

-

M-43 (S)

-

349

353

359

-

M-40 (SR)

314

319

323

328

346

351

356

360

M-37 (R)

313

318

322

327

341

346

352

356

M-35 (R2)

311

315

319

324

-

Balance

M-46 (SX)

-

D-2.0

-

M-43 (S)

-

D-1.5

-

M-40 (SR)

C-9.5

D-1.0

M-37 (R)

C-9.5

D-0.5

M-35 (R2)

C-7

-

Shaft weight(g)

M-46 (SX)

-

61

60

59

-

M-43 (S)

-

58

57

56

-

M-40 (SR)

48

47

46

46

55

54

53

52

M-37 (R)

47

46

45

45

51

50

49

48

M-35 (R2)

45

44

44

43

-

Shaft torque(°)

M-46 (SX)

-

4.0

4.0

4.0

-

M-43 (S)

-

4.0

4.0

4.0

-

M-40 (SR)

5.1

4.2

4.2

4.2

4.2

M-37 (R)

5.1

4.4

4.4

4.4

4.4

M-35 (R2)

5.1

-

Shaft KP

H

M

Grip

Weight:36.0, Diameter:60, Code:None, Back line:Yes

Weight:50.0, Diameter:60, Code:None, Back line:None

Material

Body:Stainless(SUS630)
Crown:Titanium(Ti-15V-3Cr-3Sn-3Al)
Weight:Tungsten alloy(Ni,W,Fe)

Face:Maraging steel(ES235)
Body:Stainless(SUS630)

Manufacturing process

Body:Precision casting
Crown:Rolled metal
Weight:Powder metallurgy

Face:Rolled metal
Body:Precision casting