Both FW and UT have been launched with high repulsion.
The flight of the Gold egg is at a different level.
Gold egg has finally launched the high repulsion fairway wood, and high repulsion utility.
The new power flange *1 exclusively for Red, which is as effective as when the face area is made larger,
demonstrates its power both in FW and UT, and achieves high repulsion of over COR 0.84 *2.
The face and the body around it have been made as thin as possible for improved kick velocity.
A low center of gravity has been achieved despite the deep face to lift the ball easily.
Launches with high repulsion even from the fairway.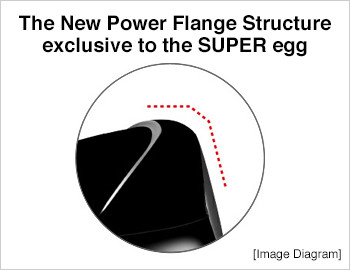 Designed with a large flange angle with the deflection concentrated in the face.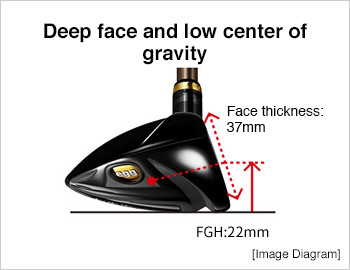 The face and surrounding body have been made as thin as possible to increase the kick velocity.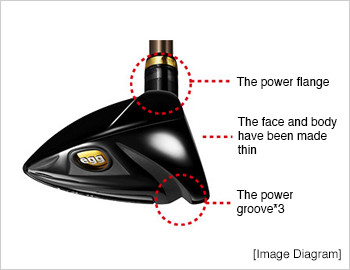 Increase in the extent and area of deflection on the face.
Leverages the power obtained through high repulsion to launch with perfect aim.

Lightweight medium butt-like shaft provides improved handle rigidity,
and ensures swinging comfort despite being lightweight.
*1. Power flange structure...Registered Patent No. 5882522
*2 COR...Value measured under the conditions defined by the R&A / USGA golf rules up to March 2016
*3. Power groove structure...Patent pending
<!>Please do not hit with a head speed of 43 m/s or more as it may lead to damage of the product
SPEC(Men's)
<Made in CHINA><Made in JAPAN>
*Non-conforming to SLE rules.
<!> Gold egg driver does not conform to the SLE rules of R&A and USGA. Please use only for playing golf non-competitively.
Please do not hit with a head speed of 43 m/s or more as it may lead to damage of the product
*With original head cover(Made in CHINA)
Comparison of egg UTILITY
SUPER egg UTILITY

egg UTILITY

Club #

4UT

5UT

6UT

4UT

5UT

6UT

Loft angle(°)

18.0

20.0

23.0

19.0

21.0

24.0

Volume(cm3)

125

120

115

115

110

105

Face angle(°)

-3.0

-2.0

Lie angle(°)

60.0

60.5

61.0

60.0

60.5

61.0

Length(inch)

M-43 (S)

-

40.0

39.5

-

M-40 (SR)

40.0

39.5

39.0

40.0

39.5

39.0

M-37 (R)

40.0

39.5

39.0

40.0

39.5

39.0

M-35 (R2)

-

39.0

38.5

-

39.0

38.5

Total weight(g)

M-43 (S)

-

323

327

-

M-40 (SR)

319

324

329

321

325

331

M-37 (R)

318

323

328

319

324

329

M-35 (R2)

-

322

326

-

323

329

Balance

M-43 (S)

-

D-0.5

M-40 (SR)

D-0

D-0

M-37 (R)

D-0

D-0

M-35 (R2)

C-7.5

D-7.5

Shaft weight(g)

M-43 (S)

-

49

48

-

M-40 (SR)

44

44

43

47

46

45

M-37 (R)

43

43

42

46

45

44

M-35 (R2)

-

41

40

-

44

43

Shaft torque(°)

M-43 (S)

-

5.1

5.1

-

M-40 (SR)

4.9

4.9

4.9

5.4

5.4

5.4

M-37 (R)

5.0

5.0

5.0

5.6

5.6

5.6

M-35 (R2)

-

5.0

5.0

-

5.7

5.7

Shaft KP

H

M

Grip

Weight:37.5, Diameter:M60, Code:None

Weight:37.5, Diameter:M60, Code:None

Material

Face:Maraging steel(C300)
Body:Maraging steel(AM355P)

Face:Maraging steel(ES235)
Body:Stainless(SUS630)

Manufacturing process

Face:Rolled metal
Body:Precision casting

Face:Rolled metal
Body:Precision casting
SPEC(Ladies')
<Made in CHINA><Made in JAPAN>
*Non-conforming to SLE rules.
<!>Gold egg driver does not conform to the SLE rules of R&A and USGA. Please use only for playing golf non-competitively.
Please do not hit with a head speed of 43 m/s or more as it may lead to damage of the product
*With original head cover(Made in CHINA)