SWEEP IRON (Ladies)
The new SWEEP iron has a cavity behind its face.
Designed for a surprisingly easy launch.
Grooved face enhances ball capture.
Time your shot better with our new spring shaft.
Swinging for the pin is no problem!
Available in pink and blue.
Head structure
The back cavity wraps around the head to allow a gentle lift.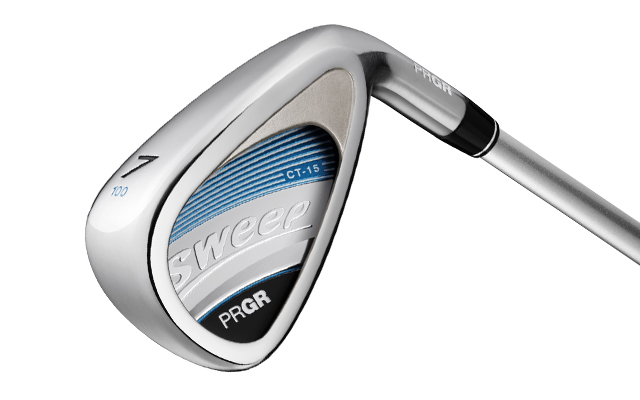 Center of gravity design
The head turns and captures with ease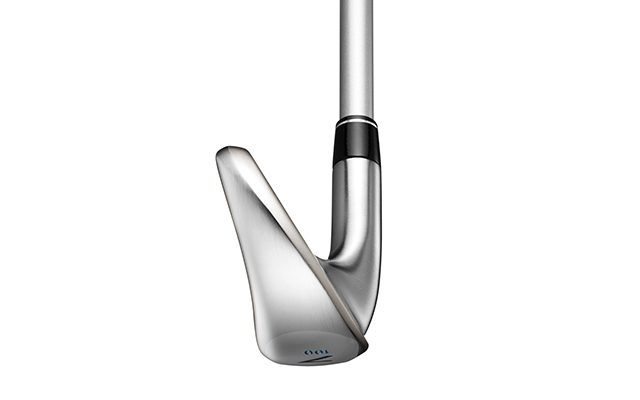 New spring shaft
Creates a lag in your natural motion for a graceful, powerful swing and longer distance.

Coaching grip
Just place your thumbs on the guides for a guaranteed correct grip wherever you are playing.

Flight distance display
Flight distance is etched into the head, assuming an average club speed of 30 meters per second for female golfers.
"No.7 iron is best for 100 yards!" A flight distance guide assists in club selection.


SPEC
<Made in CHINA><Made in JAPAN>
Comparison of RS TITAN FACE IRON
Comparison of RS TITAN FACE IRON
SWEEP IRON

RS TITAN FACE IRON

Club #

#7

#8

#9

#5

#6

#7

#8

#9

Loft angles(°)

32

36

40

24

27

30

34

39

Lie angle(°)

62.5

63.0

63.5

62.0

62.5

63.0

63.5

64.0

Face progression (mm)

2.0

2.0

2.0

3.0

3.5

3.5

4.0

4.0

Length (inch)

M-34CB(A)

-

37.0

36.5

36.0

35.5

35.0

M-30CB(L)

36

35.5

35

37.0

36.5

36.0

35.5

35.0

Total weight(g)

M-34CB(A)

-

346

352

360

368

376

M-30CB(L)

332

337

343

345

352

359

367

375

Balance

M-34CB(A)

-

C-6.5

M-30CB(L)

B-8.0

B-8.0

B-8.0

C-6.0

Shaft weight(g)

M-34CB(A)

-

46

46

46

47

48

M-30CB(L)

43

42

41

45

45

45

46

47

Shaft torque(°)

M-34CB(A)

-

4.4

4.3

4.0

3.9

3.5

M-30CB(L)

4.3

4.5

4.3

4.0

3.7

3.4

Shaft KP

M-34CB(A)

-

M

M-30CB(L)

H

M

Grip

Weight: 33.0, Diameter: L57, Code: None

Weight:37.0, Diameter:57, Code:None, Back line:None

Material

Face-Body:Stainless(SUS630)

Face:Titanium(LD433P)/#5-#9
Body:Soft Stainless(ST-22) /#5-Sw
Weight:Tungsten alloy: /#5-Pw

Manufacturing process

Precision casting

Face: Rolled metal/#5-#9
Body:Precision casting /#5-Sw
Weight: Precision casting/#5-Pw
SWEEP IRON

RS TITAN FACE IRON

Club #

Pw

Aw

Sw

Pw

Aw

Sw

Loft angles(°)

45

50/5.5

55/7.5

44

50/8.0

56/10.0

Lie angle(°)

64.0

64.0

64.0

64.5

64.5

64.5

Face progression (mm)

3.0

3.0

3.5

4.0

4.5

4.5

Length (inch)

M-34CB(A)

-

34.5

- 

M-30CB(L)

34.5

34

34

34.5

- 

FOR WEDGE CB LADYS

-

-

34.5

34.5

Total weight(g)

M-34CB(A)

-

384

- 

M-30CB(L)

350

356

356

383

- 

FOR WEDGE CB LADYS

-

-

386

385

Balance

M-34CB(A)

-

C-6.5

- 

M-30CB(L)

B-8.0

B-8.0

B-8.0

C-6.0

- 

FOR WEDGE CB LADYS

-

-

C-6.5

Shaft weight(g)

M-34CB(A)

-

48

- 

M-30CB(L)

40

39

39

47

- 

FOR WEDGE CB LADYS

-

-

50

50

Shaft torque(°)

M-34CB(A)

-

3.4

- 

M-30CB(L)

4.3

3.2

- 

FOR WEDGE CB LADYS

-

-

3.3

3.3

Shaft KP

M-34CB(A)

-

M

- 

M-30CB(L)

H

M

- 

FOR WEDGE CB LADYS

-

-

M

Grip

Weight: 33.0, Diameter: L57, Code: None

Weight:37.0, Diameter:57, Code:None, Back line:None

Material

Face-Body:Stainless(SUS630)

Face:Titanium(LD433P)/#5-#9
Body:Soft Stainless(ST-22) /#5-Sw
Weight:Tungsten alloy: /#5-Pw

Manufacturing process

Precision casting

Face: Rolled metal/#5-#9
Body:Precision casting /#5-Sw
Weight: Precision casting/#5-Pw