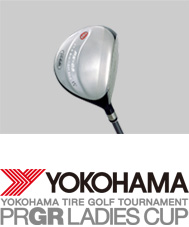 2008
The egg IRON received the 2008 Japan Good Design Award.
PRGR also introduced the egg SPOON, a spoon with a new club shape designed based on determined research on maximizing flight distance. It was the result of the exhaustive pursuit of lowering and deepening the center of gravity.
Though originally developed for amateur golfers who were not able to swing 3W clubs, its long distance performance made this model popular even with pro tour golfers.

Yokohama Rubber Co., Ltd. launched the Yokohama Tire Golf Tournament PRGR Ladies Cup, one of the tournaments for the Ladies Professional Golfers' Association (LPGA) of Japan.

PRGR introduced the TR Driver Model 500. Pro golfers using this driver have won tournaments, totaling seven wins during the year, when both men's and women's tours are combined. They included a win (by Ji-Yai Shin) in the major championship, the Ricoh Women's British Open, allowing the club to be showcased in the British Golf Museum in St. Andrews, to join the other winners' clubs.

In the same year, the directly run PRGR Ginza store launched Science Fit, a swing diagnosis service using a new concept. Its high precision compels even leading pro golfers in Japan to use this service to check their swings and to maintain their clubs.