The PRGR R35 wedge that conforms to new face groove rules is a wedge that has the feel of a putter. The 35-degree loft is designed so that the ball will carry 1/4 of the way, and run 3/4's of the way to the pin. For approach shots that are normally filled with tension, this wedge allows you to comfortably swing as you would with a putter.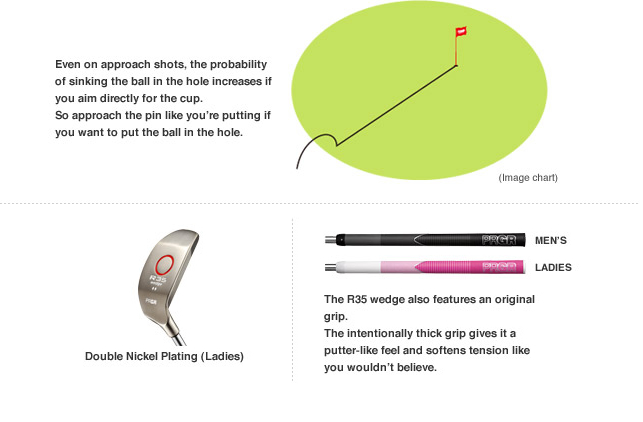 SPEC
Men's

Ladies

Loft Angle(°)

35

Lie Angle(°)

71.0

Face Progression(mm)

1.5

Length(inch)

34.0

32.0

Weight(g)

548

545

Balance

E-1.5

C-5.5

Shaft Weight(g)

110.0

104.0

Grip

weight:93、code:none、(Men's:Black, Ladies:Pink)

Material

Nickel Chrome Molybdenum Steel (8620)

Manufacturing Process

Precision Casting, Mining
<Made in China> <Made in Japan>
*Conforms to new 2010 club face groove rules*Includes original head cover (Made in China)
You can view our catalogue online in PDF format.
Comparison with the R45 wedge
R35 wedge

R45 wedge

Men's

Ladies

Men's

Ladies

Loft Angle/Bounce Angle(°)

35

45/0.5

Lie Angle(°)

71.0

67.5

Face Progression(mm)

1.5

1.5

Length(inch)

34.0

32.0

35.0

34.0

Weight(g)

548

545

485

421

Balance

E-1.5

C-5.5

D-8.0

C-8.0

Shaft Weight(g)

110.0

104.0

111(スチール)

48(カーボン)

Grip

weight:93、code:none、(Men's:Black, Ladies:Pink)

weight:57、code:none、(Men's:Black、Ladies:Pink)

Material

Nickel Chrome Molybdenum Steel (8620)

Stainless Steel (SUS630)

Manufacturing Process

Precision Casting, Mining

Casting
ANGLE VIEW
DESIGN